Many months of planning by the Henry Lawson Society committee went into organising The Big Gig Commemorative celebrations at Eureka Hall in Ballarat on September 3. And what a celebration it turned out to be!
Over 50 people came along to enjoy a day of poetry and performance. Queen Victoria (aka Rachel Buckley) presided over the day in right royal fashion, dressed accordingly in crinoline, tiara, medallions, lace and pearls.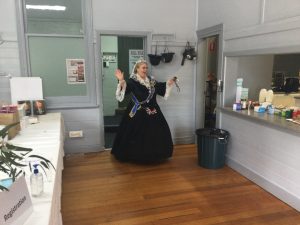 The poetry anthology Beyond Lawson was launched by Society President James Thomas at 11am, and the launch was attended by contributing poets as well as the general public.
After a short break for lunch at Lilly's Café at the Eureka Centre, The Campaspe Players entertained during the afternoon in a two hour performance of song and verse. The People's Poet, written and produced by Gwen Potter, was first performed to celebrate 150 years since Lawson's birth, and The Big Gig brought the show back for the 100th anniversary of his death. The Campaspe Players' performance was highly professional and most enjoyable, thanks to Wallace Williams and Irene Labbett (instrumentalists and singers); Mick Coventry, (award winning bush poet who played Henry's mate); Ken McMullan (experienced actor and director who played Henry); and Gwen Potter, writer and producer and longtime folk musician.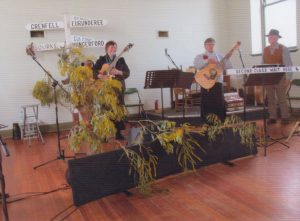 The Big Gig was a day of fun, friendship and frivolity. A courier (who shall remain nameless) delivered a copy of Beyond Lawson at the very last minute – just in time for the launch; Queen Victoria waltzed with Henry Lawson; tea, coffee and biscuits when down a treat; a silent auction of an original pencil sketch of Lawson and a limited edition of hardback copy 1/50 of Beyond Lawson made their way out the door thanks to a silent auction.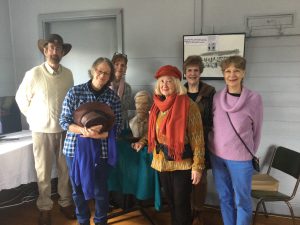 In the true spirit of Henry, so many helpers and committee members deserve thanks! To all those who planned The Big Gig and/or were involved on the day, consider yourselves comprehensively appreciated. You all made Henry proud and even Queen Vic forgave Henry for being a Republican.